3
SPIRITUS Aroma Diffuser & Alarm Clock
Waking up in the morning is hell, and hey, check out the SPIRITUS. An alarm clock that will look like the Devil threw it into your bedroom straight from his bony gates. Oh, and the clock is also an aroma diffuser of essential oils. What better to get your ass out of bed than the ominous scents of fire and brimstone?
I joke, I joke.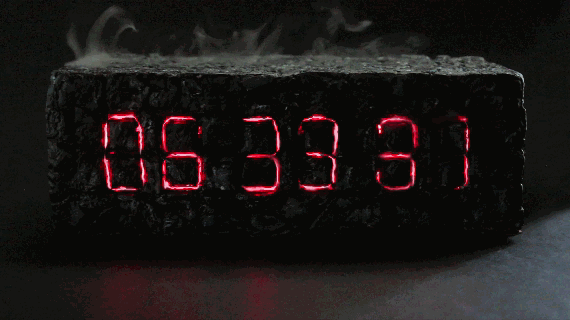 The SPIRITUS Aroma Diffuser & Alarm Clock is a forthcoming wakeup call from KIBARDIN Design. Despite its name I don't think it's meant to be a spiritual warning on what awaits you if you sleep in, or behave like an a-hole when you're awake; Kibardin describes his artistic vision as "a gorgeous burnt-wood looking exterior," that "runs through shades of soothing red LED light that gently glows through its black cover for an added chillout glowing coal effect." So maybe he's thinking more coal-burning fireplace than the burning coals of Hell?
The diffuser portion of the SPIRITUS has a 300mL tank to hold your favorite essential oils - lavender? Coffee? Charred flesh? - and a whisper-quiet function you can set for 30, 60, 120, or 180 minutes of output. At printing the alarm clock-diffuser combo was readying for production, with an "Add to Wishlist" option available on the KIBARDIN Design website for notification of its availability.
More Products You Might Like